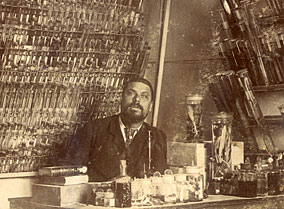 Salvatore Lo Bianco 1889 ©SZN
Zoological Collection at SZN
The history of our collection begins with one of the Crustacean specimens, that is dated 8th April, 1876. At that time, preparations were supposed to be used by each researcher for their personal reference. In the photograph of Lo Bianco (1860-1910), many fixed specimens are organized on special racks as if they have been used like dictionaries.

Especially during the period of intensive research on the fauna and flora of the Gulf of Napoli, starting from 1880 (see the list of publications), researchers prepared specimens for the purpose of drawing.

| | |
| --- | --- |
| | |
| "Disegnati" means "Drawing" | The specimen might be used for this figure. |
The specimens, which have been used for the monograph of Lo Bianco, ("Fauna e Flora del Golfo di Napoli, NO.38, Uova, larve e stadi giovanili di Teleostei, elaborata da divesi Autori con l'uso del materiale reccolto e seriato da S. Lo Bianco. ",1931 - 1933), still remain in the museum storage room of SZN.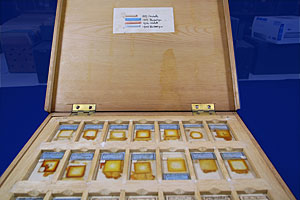 Also the microscopic preparations of W. Schewiakoff, which have been used for monograph NO.37, ("Acantharia, von W. Schewiakoff. 1926 755 Seiten, mit 4 Figuren und 45 Tafeln.") remain with the data notebook in their original wooden box (see Acantharia Slides B11P02) .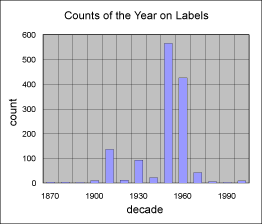 This bar chart shows the number of preparations made in each decade from the 1870's. Despite the fact that only 34% of the preparations have the date written on the labels, the chart shows three active acquisition periodes. The first acquisition period in 1910's corresponds to the period of the primary cataloging activities as shown in Catalog page. The second period in the 1930's corresponds to De Fiore's molluscan preparations and Parenzan's preparations (see Taxonomists page.) The 3rd period , from the 1950's to 1960's, closely relates to the activities of Ugo Moncharmont and Michele Sara.
During the 1950's and 1960's, Ugo Montcharmont (1913 - 1992) registered more than 600 preparations (see the list of his preparations) that covered an unusually wide range of phyla (14 Phyla).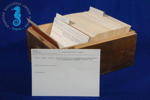 Also about 3,000 reference cards by him remain(MISC009, MISC010, MISC011, MISC012, MISC013) . Each card, corresponding to the species living at the Gulf of Napoli, contains not only a list of references but also an additional information for habitats, occurrences, etc.